TWMX Race Series Racer Profile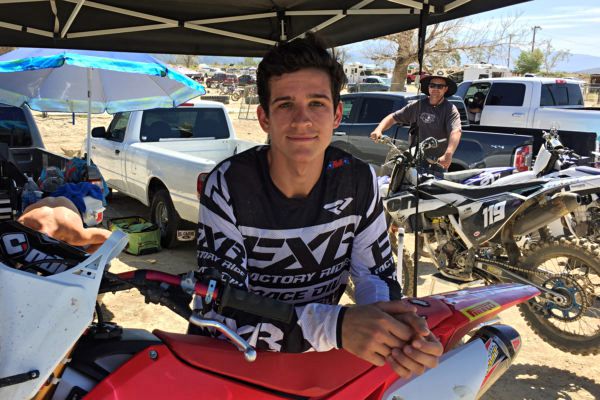 Bradley Lionnet
Age: 20
Hometown: Kitwe, Zambia
Classes Raced: 450 Pro, Open Pro
Sponsors: ODI, STI Tires, Hinson, Pro Circuit, Faster USA, FXR, TCX Boots
Bradley Lionett first came to our attention when he absolutely dominated the 2016 TransAm by sweeping every moto he entered in the pro classes. The likable rider from South Africa has been cutting his teeth in the West Coast 250 Supercross series, and he showed up at Glen Helen to get a little motocross under his belt before the start of this summer's 250 Nationals.
https://cdn-motocross.transworld.net/blogs.dir/441/files/2018/05/bradley2-600x400.jpg" />

It's great to see you out at the TWMX Race Series again since West Coast Supercross is on break. I heard you're switching to a new team for outdoors?
Well for outdoors, I'm actually going to be a privateer, but I'm going to switch bikes to Honda. I really like the Honda CRF250R. I tested other bikes in the preseason and I picked Honda because it was the best bike. Rafael has been really good to me for the Supercross series, but unfortunately, they aren't going to contest the Nationals.
How long have you been racing and what led you to choose motocross?
I started racing when I was five years old back in Zambia, was led into motocross by my brothers. All thre of them raced and I kind of just followed suit.
Do you participate in any other sports or have any other hobbies?
I played soccer! I watch Manchester United play every weekend, other than that, rugby sometimes. But mostly just soccer…I love it.
How seriously do you take your racing, is it just for fun or do you have bigger aspirations?
I have big aspirations! I want to get on a factory team and race Supercross and motocross.
https://cdn-motocross.transworld.net/blogs.dir/441/files/2018/05/bradley3-600x400.jpg" />

Who is the biggest influence in your racing?
I don't know that's hard, probably Dean Wilson. We are a kind of friends and he is good friends with my trainer BJ Burns, and I've got to watch him race. He gives me pointers and really like his style, I want to be closer to the way he rides.
What are your favorite types of tracks and track obstacles?
I like sandier long tracks, like Pala where you can just carve and choose your own lines. My favorite obstacle or favorite jump would probably be a floating step up over like a turn.
What is your favorite thing about being a professional motocross racer?
That you get to do the thing you love every day and you get to go on cycles, train, ride mountain bikes, and just all the fun stuff. You don't have to get up at 5 am to go work on the roads, you wake up at 7 and just have fun every day, I love it.
What would you rather do, holeshot a race and run away or come from behind to win?
Holeshot a race and run away with it, for sure! That's what we all train to do.
Tell me about your bike and why you chose it and what have you done to make it work well for you?
I chose a Honda CRF450R because I liked the way it was more stable than other bikes. The power is good this year, and the handling is great. To modify it, I put on different engine mounts to make the chassis a little more flexible, I have A kit forks on and Pro Circuit pipe. That's it, the engine is already super fast as is!
Published by:  Megan Maeda